Susato Oriole Whistles
and
The "Four-Winds" Vertical Flute Set
Brown or Black
These are Susato Penny Whistles (Oriole Model). They are made of ABS plastic, so it is very durable, and can be carried where ever you go without fear of damage - however, driving with your knee while playing is discouraged ;o)
The Susato Oriole Whistle will be taking the place of the S-series Susato Dublin Whistle. The main difference is that this whistle is tunable, but is available at a price comparable to non-tunable whistles!
Note that the Oriole is also available in an S-series Bb!
(Dublin and Kildare Bb whistles are currently only available in M-Series)

All four whistles are available below as an economical set (four whistle bodies, one common head). Includes pouches, but wooden stand is NOT included.


Susato Orioles have a bright, round tone, and are louder than most other whistles - they can keep up well in sessions with other instruments. The narrow, curved windway requires very little air, and the whistle plays quite easily in it's entire two octave range - usually even a few notes above this! One nice feature of the Susato is the thumb rest (see pics). This gives support for the whistle, is adjustable or can be removed completely if desired. Also included is a clear plastic whistle pouch and a Susato fingering chart.
If you're new to whistles, we always recommend a Soprano D as your first whistle. See our Beginner's Section for information on this.

All Oriole Whistles include a vinyl pouch
A few notes about bore sizes:
V-series - The smallest of the Susato whistles, the V-series has a nice clean, very sweet tone. It's loud enough to keep up with other instruments, while not being overpowering. This is an excellent choice for a beginning player, but is also a whistle that experienced players will want to have in their collection. Whistles in this range are also known as "Soprano" Whistles.

S-series - The S-series whistle has a little larger bore (diameter) than the V-series. It requires a little more air (a little more "push") than the V-series, and has more volume. It's a great whistle for a player that's a little more aggressive in their playing style, or for the player that needs to keep up with many instruments at a Session. Whistles in this range are also known as "Soprano" Whistles.

M-series - These are considered "Low Whistles" by some players, while considered "Alto Whistles" by others. They are the perfect choice for someone just starting out on Low Whistle; they let you practice the "Piper's Grip" on a whistle that's not as intimidating as a Low D Whistle can be (for instance, the Low G whistle is exactly half-way in between the size of a Soprano D and a Low D whistle). Be sure to read our FAQ and Low Whistle pages before purchasing your first Low Whistle!

L-series - Also known as "Low Whistles" these whistles have that wonderful low, haunting tone that everyone loves. Note that the Low Whistle takes quite a bit of practice, but the rewards are well worth the effort. Be sure to read our FAQ and Low Whistle pages before purchasing your first Low Whistle!

LX-series - These are the largest Susato Low Whistles. The Dublin LX whistle is available in Low C, with three keys. See the L-series whistles above for more details about these whistles.
The Oriole "Four-Winds" Vertical Flute Set


If you'd like to try moving outside the realm of Pennywhistles, you might want to consider the Oriole Vertical Flute Set. It includes everything listed below:
(all instruments in this set are black, and in the key of C)

1 - 3-Holed Tabor-Pipe (or Txistu)
1 - 4-Holed Pentacorder
1 - 6-Holed Pennywhistle
1 - 8-Holed Recorder
1 - Four-position Wooden Stand (specially designed for this set)
1 - "Companions Five" Instructional Book
4 - Individual Pouches for each instrument

All four vertical flutes share one Oriole Head (one head is included with this set). Combined with the new "Four Winds For All Seasons" Display Stand and the "Companions Five" instruction book, this new Oriole set presents an excellent group of instruments for beginners young and old, all at a great introductory price.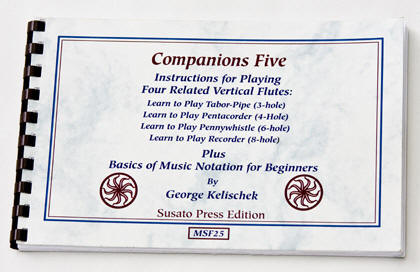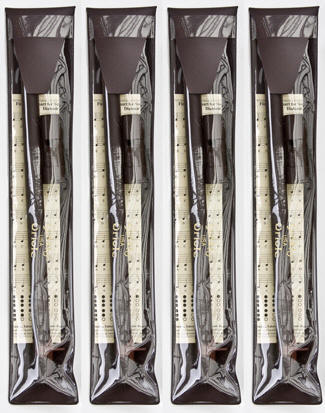 Remember that the instruments in the Four-Winds Set are all KEY OF C!
If you're just starting out on whistle, you'll probably want to stick with a whistle in the Key of D. See our Beginner's Section for more info on keys.


Other Susato Wooden Whistle Stands are listed on our Susato Kildare Page
---
PLEASE NOTE that there is a difference between the "Set of Four Oriole Whistles" and the "Four-Winds" Vertical Flute Set!!!
See the descriptions above to make sure that you're ordering the set that you want!
Oriole Whistles
Small Bore (S-Series)
Set of all Four Oriole Whistles - Save 10%!
(four whistle bodies, one head - does not include stand or book)
Four-Winds Vertical Flute Set
(includes four different C instruments, one head , stand, book)
Orders outside the U.S. must be for a minimum of $30.00 in merchandise!
Some images on this page used with kind permission of Susato