The

Essential

Tin Whistle Toolbox
By Grey Larsen


180 pages - includes Online Audio
About the Author...
Grey Larsen has been playing and studying tin whistle, Irish flute, and Anglo concertina since the early 1970s, learning both from elder masters in Ireland, and from those who had emigrated to his own home turf in the American Midwest. He has taught, performed, and recorded widely throughout North America, Europe, and Australia. Also since the 1970s, Grey has been playing and exploring the traditional fiddle music of his native Midwest and Appalachia.
Quote from Joanie Madden of Cherish the Ladies (about this book):
"An essential set of tools for the beginning and intermediate tin whistle player. I highly recommend it!"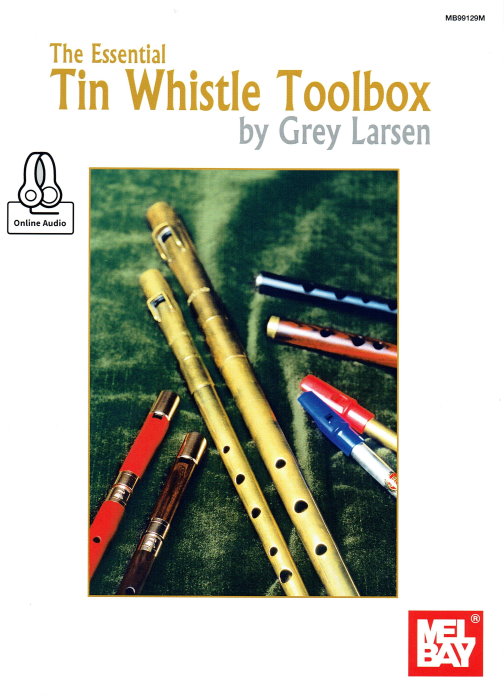 All the tools the beginner, novice, and intermediate tin whistle player needs in order to progress to a high level of competence in Irish music. Includes an "Orientation to Traditional Irish Music" which puts the music in context, with information on scales and modes, dance tune types, the historical roots of whistle playing, and advice for learning by ear. The book is full of thorough instruction, exercises, and musical examples: from holding, fingering, breathing, and blowing, on up to advanced ornamentation, phrasing, and variations. Features a simple and penetrating new approach to understanding and notating ornamentation that goes beyond any previous method, as well as history and theory of traditional Irish tin whistle music. For those who don't read music, almost all the exercises and examples appear on the companion CD.

---
This book/CD set is for...

The beginner, novice, and intermediate tin whistle (pennywhistle)
player,
and everyone who is eager to learn about the nuts and bolts,
and the heart and soul of traditional Irish music.

With this book/CD set you will...
* Learn a clear and compelling new approach to Irish ornamentation.
* Discover a simplified system for notating Irish ornamentation.
* Hone your ornamentation skills with 119 exercises.
* Develop your fingering dexterity and comfort with thorough and careful instruction.
* Receive systematic guidance on tin whistle ergonomics (your physical relationship with the instrument) and tone production.
* Learn to play in a relaxed way and prevent stress injuries. This is critical information for the absolute beginner and advanced player alike.
* Learn to play more eloquently with comprehensive advice on breathing, phrasing, articulation, and practice techniques.
* Gain deeper insight into traditional Irish music through an extensive survey of Irish music theory and history.
* Own a CD that contains 92 tracks of the author playing all the exercises and examples notated in the book, plus computer software and links to important online resources.
* View numerous photographs, diagrams, illustrations, and examples in music notation that illuminate and expand upon the text.
* Refer to a detailed fingering chart for tin whistle.
* Gain the insight to understand how the great tin whistle players make such beautiful music, and start making some yourself!
You may also download (at www.GreyLarsen.com

)

the following materials that
supplement this book:
* 38 exercises for developing finger coordination and dexterity, presented in music notation and with explanatory text.
* Online Audio of the author playing these 38 exercises.
* Complete versions, in music notation, of the Irish tunes that appear in partial form as examples throughout this book.
* Sound recordings of the author playing these same tunes, as notated.
* Even more Irish tunes at Grey Larsen's Irish Tune Bank.

Then, when you're ready to dig deeper, get
Grey Larsen's The Essential Guide to Irish Flute and Tin Whistle, which:
* Continues to explore ornamentation with advanced techniques such as cranns, double-cut rolls, condensed rolls and cranns, single trills, shakes, and more.
* Includes still more ornamentation exercises.
* Delves into the subject of ornamentation through melodic variation.
* Covers Irish flute as well as tin whistle, exploring their vast common ground and contrasting their differences.
* Provides essential advice, from Joanie Madden and others, for Boehm-system flute players who want to play their instrument in a traditional Irish style.
* Contains far more historical material, including 27 meticulous transcriptions of important flute and whistle players' recordings from 1925-2001, along with analytical commentary and biographical material on each player.
* Spans 480 pages, includes Online Audio, and provides more than 150 photographs, diagrams, and illustrations.
---
You might also want to take a look at Grey's first book:
The Essential Guide to Irish Flute and Tin Whistle

Differences between The Essential Guide to Irish Flute and Tin Whistle and The Essential Tin Whistle Toolbox
Celtic Encyclopedia for Irish Flute (the third book)
Celtic Encyclopedia for Tin Whistle (the fourth book)

---

The Essential Tin Whistle Toolbox
By Grey Larsen
Catalog# 60655 - Price $34.00