Sad Songs and Merry Wars
By Bloomsday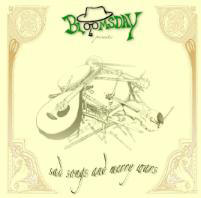 Based in the Midwest (Central Illinois), Bloomsday plays Traditional Irish/Celtic music. You might recognize one of the members as The Whistle Shop's Owner (Thom Larson).
Note that Thom Larson is no longer a member of Bloomsday, but does appear on this CD.

Click an image below for a full-size view
(images open in a new browser window)




Click a link below for a sample audio clip.
Note that sample audio clips are recorded in "Lo-Fi" (for faster download).
There is a BIG difference in quality between the audio samples here and the actual CD!
1. Ryan's Holy Ground (Dennis Murphy's Polka, Holy Ground, Ryan's Polka) - 05:04

Butch - Lead Vocal, BodhrÓn

Chris - Fiddle

Dan - Guitar, Backup Vocals

Kevin - Mandolin, Backup Vocals

Thom - Soprano D Whistle, Mezzo.-Sop. A Whistle

2. Champion at Driving Them Crazy (Champion at Driving Them Crazy, Humors of Castle Comer) - 04:15

3. Back Home in Derry - 05:57

Butch - Backup Vocal

Chris - Fiddle

Dan - Guitar

Kevin - Accordion, Backup Vocal

Thom - Lead Vocal, Guitar

4. Stumble Drunk (Tripping Upstairs, Haste to the Wedding, Connaughtman's Rambles) - 04:27

Butch - BodhrÓn

Chris - Fiddle

Dan - Guitar

Kevin - Soprano D Whistle (solo on Tripping Upstairs)

Thom - Soprano D Whistle (solo on Haste to the Wedding)

5. The Blacksmith (The Blacksmith, Miss Downing's Fancy) - 03:59

Butch - Lead Vocal

Chris - Fiddle

Dan - Guitar

Kevin - Mandolin

Thom - Soprano D Whistle

6. Carrickfergus - 05:00

Chris - Fiddle

Dan - Lead Vocal, Guitar

Kevin - Accordion

7. Planxty Bell (Planxty Irwin, The Bell Table) - 5:11

Butch - BodhrÓn

Chris - Fiddle

Dan - Guitar

Kevin - Accordion

Thom - Soprano D Whistle

8. Beggermen & Gypsies (Jolly Beggerman, Blarney Pilgrim, Father O'Flynn's, Smash the Windows, Go Home Girl) - 06:32

Butch - Lead Vocal, BodhrÓn

Chris - Fiddle

Dan - Guitar, Backup Vocal

Kevin - Accordion, Backup Vocal

Thom - Soprano D Whistle

9. High Reel Set (High Reel, Paddy Ryan's Dream,, Bank of Ireland) - 03:32

Butch - BodhrÓn

Chris - Fiddle

Dan - Guitar

Kevin - Flute

Thom - Guitar

10 Rosin the Bow - 03:38

Butch - Lead Vocal, BodhrÓn

Chris - Fiddle

Dan - Guitar, Backup Vocal

Kevin - Mandolin, Backup Vocal

Thom - Soprano B Whistle

11. The Foggy Dew - 05:23
Total run-time: 53 minutes

Sound clips provided by permission of Bloomsday
---