Irish Traditional Guitar Accompaniment

Book & Cd
96 pages - By
Gavin
Ralston

This book uses standard sheet music (and some tablature) to teach Guitar accompaniment for Traditional Irish music. It assumes that you have at least some knowledge of guitar, and that you wish to expand that knowledge. Most of the tunes use strumming (with a pick), a few use finger picking.
This book uses "Drop D Tuning".
This means that the guitar is tuned to the standard "EADGBE", then the lowest string is tuned down one full step to D.
A capo is required for many of the tunes in this book.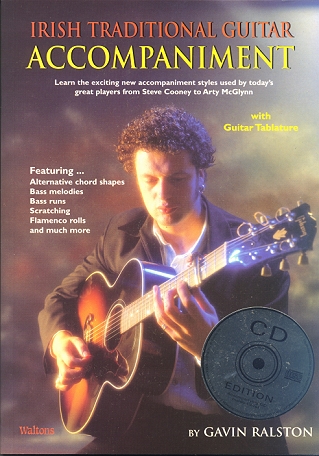 The CD includes tuning notes, examples of various rhythm patterns, and all the tunes from the book.
A unique feature of the CD is that the Guitar (accompaniment) comes out on the right channel of your stereo (or computer), the Fiddle (melody) comes out on the left channel. This allows you to tune out one or the other using the speaker balance, so you can either listen closely to the guitar, or practice your own Guitar accompaniment with just the Fiddle.
In addition to general rhythm patterns for Jigs, Reels, Hornpipes, etc., the following tunes are included in both the Book and on the CD:
The Bothy Band Jig

The Mountain Road

The Eavesdropper

Gallagher's Frolics

Apples in Winter

Martin Wynne's No. 2

The Musical Priest

The Boys of Ballisodare

The Rights of Man

The Rambling Pitchfork

The Humours of Ballyconnell

Johnny Will you Marry Me

Danny Boy*

The Boys of Mallow

Cooley's Reel

Eibhlín Ní Riordan's

Jenny's Chickens

Keane's Favourite

The Rambling Maid

The Dublin Reel

The Nightingale*

The Maids of Castlebar

The Magic Slipper

The Trip to Durrow

The Water is Wide*

Capo Slide Reel - Hewlett's Reel

Capo Slide Reel - The Bird in the Bush

* Denotes a "Song" instead of a "Tune" (in Traditional Irish music, a "Song" is sung, a "Tune" is an instrumental piece). The songs on this CD have a vocal instead of a fiddle for the melody.
---

Irish Traditional Guitar Accompaniment
Book & CD
Price - $34
.95
Catalog# -
WM1310CD