A Dossan Of Heather
Book & CD - 151 Pages
Compiled and edited by Jean Duval and Stephen Jones
Includes a free bonus book!
This very well thought-out book contains 85 traditional Irish tunes from singer, musician and storyteller Packie Manus Byrne - it's perfect for whistle or flute. It has a very interesting introduction, a brief story about each song, and much more.
If you'd like to find out more about Packie Manus Byrne, take a look at The Web Home of Packie Manus Byrne (use your Browser's "Back" button to return here when you're done).
Included:
Introduction

Sources of the music and types of tunes

A story for every tune

The cast of musical characters

How the collection was compiled

Characteristic features of the tunes

Packie's whistle style

Acknowledgments

A note on the Irish orthography used in this book

Notes on the transcriptions

Guide to the speed of dance tunes
85 jigs, highlands, airs, hornpipes & germans, reels, slip jigs, marches & polkas, mazurkas & waltzes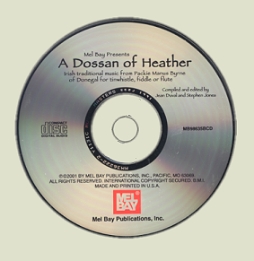 The CD contains tunes from the book and is a joy to listen to, even when you're not playing along.
(This book is not a tutorial - there are no instructions included for reading sheetmusic)

(For a limited time) When you purchase "A Dossan of Heather", you will also receive
"My Friend Flanagan"
at no extra charge!
Tall tales told by Packie Manus Byrne - 96 Pages
A very entertaining collection of short stories told by Packie Manus Byrne about the fictional Irish character Seán Flanagan. This book was very generously provided to us by the Publisher (Stephen Jones) at no charge to compliment "A Dossan of Heather".
From the back cover:
"Expertly told by Packie Manus Byrne, these 'tall tales" abound in the dry wit and unexpected twists that characterize the very best in Irish humour."
---
A Dossan of Heather - Book & CD
(includes My Friend Flanagan)
Price - $23.75
Catalog# - 632