Susato Kildare Three-whistle Set
Tunable

June 11, 2023, PLEASE NOTE:
We have recently been having trouble getting instruments from Susato. Please contact us to check availability before placing your order for any Susato Kildare whistles!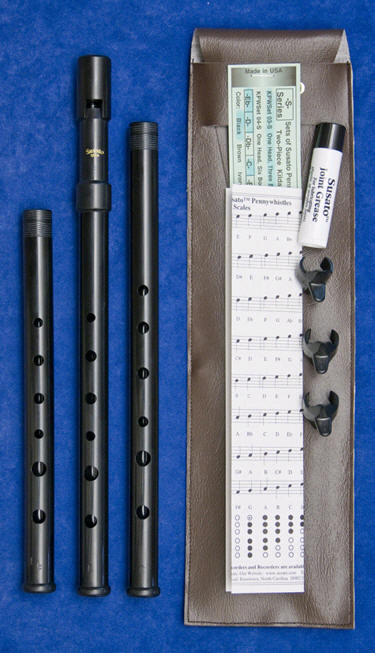 This is a Susato Penny Whistle Set, it includes three tunable whistles. The set comes with one interchangeable head that fits all three whistles. They are made of ABS plastic, so they're very durable, and can be carried where ever you go without fear of damage - however, driving with your knee while playing is discouraged ;o)


They have a bright, round tone, and are louder than many other whistles - they keep up well in sessions with other instruments. The narrow, curved windway requires very little air, and the whistles play quite easily in their entire two octave range - usually even a few notes above this! One nice feature of the Susato Whistle is the thumb rest (see pic). This gives support for the whistle, is adjustable or can be removed completely if desired.

Also included is a pouch that holds all three whistles, cork grease, and a Susato fingering chart (color of pouch will vary). Note that L-series sets may include two or three separate pouches (depending on the size of the pouches that are available at the time). This will not effect the price of the set.
A few notes about bore sizes:
V-series - The smallest of the Susato whistles, the V-series has a nice clean, very sweet tone. It's loud enough to keep up with other instruments, while not being overpowering. This is an excellent choice for a beginning player, but is also a whistle that experienced players will want to have in their collection. Whistles in this range are also known as "Soprano" Whistles.

S-series - The S-series whistle has a little larger bore (diameter) than the V-series. It requires a little more air (a little more "push") than the V-series, and has more volume. It's a great whistle for a player that's a little more aggressive in their playing style, or for the player that needs to keep up with many instruments at a Session. Whistles in this range are also known as "Soprano" Whistles.

M-series - These are considered "Low Whistles" by some players, while considered "Alto Whistles" by others. They are the perfect choice for someone just starting out on Low Whistle; they let you practice the "Piper's Grip" on a whistle that's not as intimidating as a Low D Whistle can be (for instance, the Low G whistle is exactly half-way in between the size of a Soprano D and and a Low D whistle). Be sure to read our FAQ and Low Whistle pages before purchasing your first Low Whistle!

L-series - Also known as "Low Whistles" these whistles have that wonderful low, haunting tone that everyone loves. Note that the Low Whistle takes quite a bit of practice, but the rewards are well worth the effort. Be sure to read our FAQ and Low Whistle pages before purchasing your first Low Whistle!
PLEASE NOTE:
Most Susato Kildare M-series and L-Series Whistles are available with keys on some (or all) of the finger holes. Though not shown on this page, we would be happy to put together a Three-whistle Set that includes whistles with keys for you. You'll find more about keys for these whistles on our Susato Kildare Page. Please feel free to contact us for information about ordering a Kildare Three-whistle Set that includes keys.
---






June 11, 2023, PLEASE NOTE:
We have recently been having trouble getting instruments from Susato. Please contact us to check availability before placing your order for any Susato Kildare whistles!






You can custom design your Kildare Three-whistle Set below.

When putting together your Kildare Three-whistle Set, note that all three whistle bodies MUST BE THE SAME BORE SIZE!
In other words, you must choose all V-series, or all M-series, etc.

Please double-check your choices before submitting your order!!!




V-Series
Three-Whistle Set
$100.70





S-Series
Three-Whistle Set
$104.50

M-Series
Three-Whistle Set
$163.20

L-Series
Three-Whistle Set


(No Keys)


$208.80