Silkstone Whistle
Available in the keys of D, C

,

Bb

&A
British Racing Green or Pearlescent Red

PLEASE NOTE:
Quite sadly, Paul Hayward passed away in November 2012. Silkstone whistles are no longer available.
Rest in peace, Paul.
Silkstone whistles are fairly new to the World of Whistles, but they are already receiving some excellent reviews. They are made in England by Paul Hayward, who pays tremendous attention to the smallest of details. His whistles are made of uPVC and painted with a gloss metallic "British Racing Green" or "Pearlescent Red" - most cars would be envious of the paint job - and they sound as good as they look! They have a wonderful, full, round tone, and are loud enough to keep up in sessions without being overpowering or shrill.
The gently tapered finger holes are very comfortable, and the curved windway reduces the chance of condensation build-up when playing.
The Silkstones that we sell are actually Paul's Second Generation of whistles. He was (and still will if asked) making his whistles with a larger windway, which did produce more volume, but also required more air. We play-tested both versions here at The Whistle Shop, and we agree with Paul that his second generation has improved an already excellent whistle.
Each whistle is individually numbered and initialed, and comes with a handsome hand-made pouch, and "Owners Manual" (see pics below). The Owners Manual includes a fingering chart, as well as some info about Paul Hayward, Silkstone, and whistles in general.
If your looking for a slightly quieter whistle, you might want to take a look at the Silkstone "GoldRing" Whistle.
In the past, we've never recommended any of our "High-End Whistles" to beginners, but this whistle is an exception. It plays very easily in both octaves - we feel it would be an excellent choice for someone just starting out (as always, we still recommend that you read all the way through our Beginner's Section before deciding on your first whistle purchase).

Pearlescent Red (nontunable version)
If you'd like to learn more about Silkstone Whistles, their website is at www.silkstone-whistles.com - just remember to come back to The Whistle Shop when you're done ;o)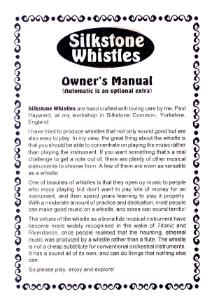 ---
PLEASE NOTE:
As of this time, Paul Hayward is no longer making whistles.