Silkstone "GoldRing" Whistle
Key of D
British Racing Green

PLEASE NOTE:
Quite sadly, Paul Hayward passed away in November 2012. Silkstone whistles are no longer available.
Rest in peace, Paul.
Silkstone whistles are fairly new to the World of Whistles, but they are already receiving some excellent reviews. They are made in England by Paul Hayward, who pays tremendous attention to the smallest of details. His whistles are made of uPVC, most cars would be envious of the paint job - and they sound as good as they look! They have a wonderful, full, round tone, and are loud enough to keep up in sessions without being overpowering or shrill.
The gently tapered finger holes are very comfortable, and the curved windway reduces the chance of condensation build-up when playing.
This "GoldRing" Silkstone answers the need for a little quieter whistle. It has the same full, round tone that his his regular whistles do, but slightly less volume.
Each whistle is individually numbered and initialed, and comes with a handsome hand-made pouch, and "Owners Manual" (see pics below). The Owners Manual includes a fingering chart, as well as some info about Paul Hayward, Silkstone, and whistles in general.
If you'd like to learn more about Silkstone Whistles, their website is at www.silkstone-whistles.com - just remember to come back to The Whistle Shop when you're done ;o)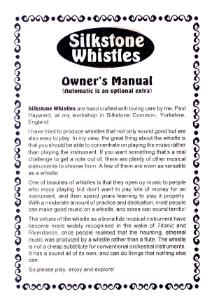 You might also want to also take a look at these other fine Silkstone Instruments:
Low D Alloy Whistle
Soprano D Alloy Whistle
Green or Red PVC Piccolo in D
Silkstone D, C or Bb - Green or Red
Coming Soon - Soprano G Alloy Whistle
---
PLEASE NOTE:
As of this time, Paul Hayward is no longer making whistles.